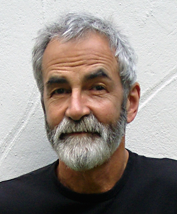 I worked for over 20 years as an Art Director/Creative Director in major London ad agencies. Accounts I've worked on include Austin Rover, British Rail, BT, Ford, Guinness, Hamleys, Harper Collins, Honda, Leica, Milk, Moulinex, National Savings, NME, Phonogram, Psion and R Whites.

I now live and work in Wargrave, Berkshire, from where I provide a range of services, including press advertising, posters, POS, direct mail, brochures, branding and website design/build. I can also provide a complete marketing service through my professional network.

A background in advertising has influenced my work as a graphic designer in that I approach most projects as if they were an ad, a method that I find works particularly well with ads, but is also very useful through a whole range of media, especially website design, where there's an unrivalled opportunity to engage with the market.

I always start with An Idea. Then I design all projects from the ground up. Every ad, logo or website I produce is original. I work for a diverse mix of businesses, professions and services, aimed at a wide range of markets, all of which require a particular approach. I don't use templates, although if you have a template website I can update it or make it unique to your business.

If you're looking for a website that's clear, informative and a pleasure to navigate, an arresting ad that will produce results, or a fresh, dynamic and memorable logo, please contact me for a free quote.

As a free-lancer, I'm only as good as my work and every job, large or small is of equal importance to me. My overheads are minimal, so although I am able to provide, with my network, all the services offered by most design studios or ad agencies, you'll be pleasantly surprised how modest my prices are.